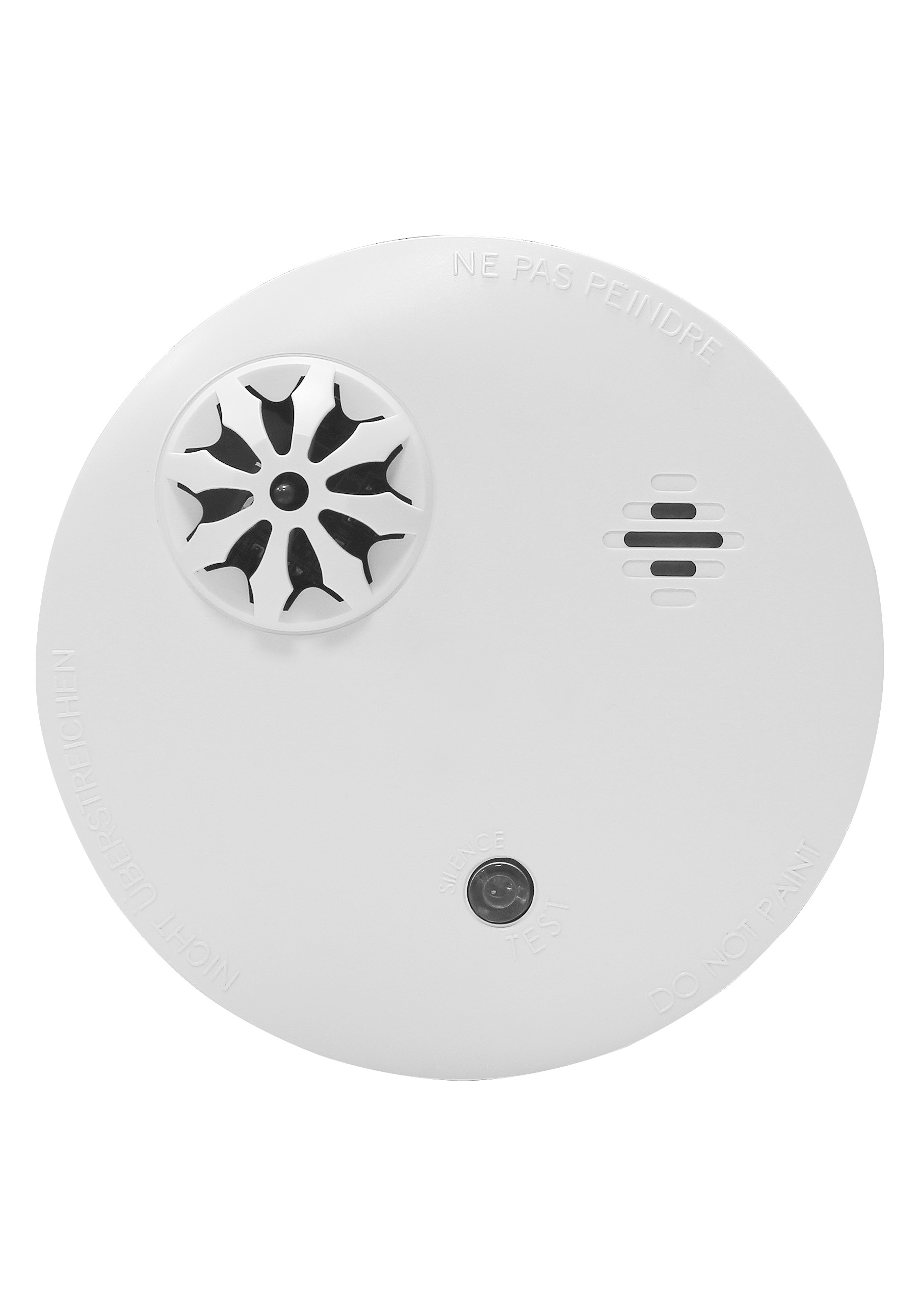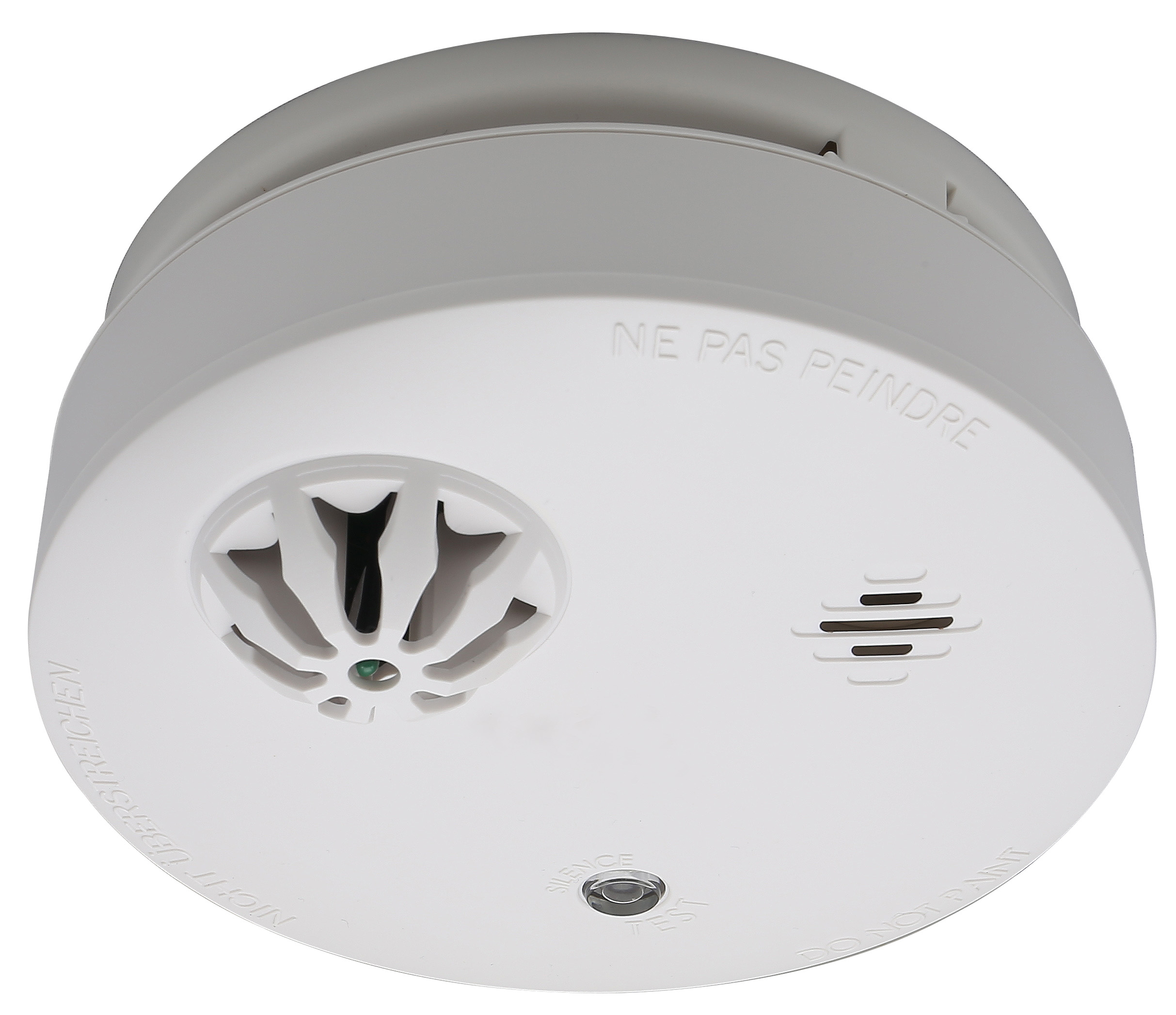 Our new MD368 series detector is designed to meet the needs of manufactures of smart home, IoT applications. Not only the detector offers aesthetically appealing professional design and seamless operation, it also comes with extra room to fit a Sub-1Hz RF module, ZWAVE, ZIGBEE and WiFi module with two way communication though UART interface. The model with extension B1 is used a CR123A lithium battery power to both detector and RF module; the model with extension B3 is equipped with two sets battery, two L91 AA size PCB mounted lithium batteries (its life time up to 10 years) supply power to detector itself and an additional replaceable CR123A lithium battery supply power to RF module. Professional installers will be able to remove the smoke chamber to ease cleaning and save on maintenance time.
Approvals
UL217 / 268 / 521 standards ; EN54-5 standards ; EN14604 standards
Definition of The Model Name
| | |
| --- | --- |
| Smoke only | MD368S, MD368ST (10 year type) |
| Heat only | MD368H, MD368HT (10 year type) |
| Combo smoke and heat | MD368SH, MD368SHT (10 year type) |
Features and Benefits
Optical smoke detector.
With optional heat detection.
Self- diagnostic sensor test.
Low power consumption.
Low battery warning signal.
Temperature compensation.
Analogue sensitivity value output.
Part function ( Test key、LED or Buzzer )can be used for RF by UART interface.
4 PIN connector connecting for RF board.
Capable of connecting with wireless system control panel.
Detector w/UART interface available for wireless system and IOT applicaiton:
Model Name

BatteryType

Battery Life

Panasonic CR123A Lithium 3.0V * 1 (replaceable)

Energizer L91 Lithium 1.5V AA * 2 (fixed, non-replaceable)

Additional Panasonic Lithium CR123A 3.0V *1 for RF module use (replaceable)

Additional Panasonic Lithium CR123A 3.0V *1 for RF module use (replaceable)

MD368SB1

for detector & RF module use

1.2 years

MD368STB3

for detector use

V

D: 10 years RF: 1.2 years

MD368HB1

for detector & RF module use

1.2 years

MD368HTB3

for detector use

V

D: 10 years RF: 1.2 years

MD368SHB1

for detector & RF module use

1.2 years

MD368SHTB3

for detector use

V

D: 10 years RF: 1.2 years
MD368S Detector Specifications
Model:

MD368SB1、MSD368STB3

Sound Level:

85dB/3M

Description:

Optical smoke detector

Sensitivity:

Smoke: EN14604 UL217/268

Rating Voltage:

DC 3V, DC 2.6~2.7 Low voltage

Operating Temperature:

-10℃~50℃

Standby Current:

25uA

Operating Humidity:

5%~90%

Start Current:

5mA

Heat Alarm Temperature:

NA

Alarm Current:

60mA(max)

Dimensions:

120 X 52.45 mm

Sensitivity Specifications

Smoke Sensitivity range

Heat Temperature range

EN14604 0.105dB/m~0.165dB/m

UL217/268

1.8%/ft~3.5%/ft

NA

NA
MD368H Detector Specifications
Model:

MD368HB1、MSD368HTB3

Sound Level:

85dB/3M

Description:

Heat detector

Sensitivity:

Heat : EN54-5, UL521

Rating Voltage:

DC 3V, DC 2.6~2.7 Low voltage

Operating Temperature:

-10℃~50℃

Standby Current:

25uA

Operating Humidity:

5%~90%

Start Current:

5mA

Heat Alarm Temperature:

FT

Alarm Current:

60mA(max)

Dimensions:

120 X 52.45 mm

Sensitivity Specifications

Smoke Sensitivity range

Heat Temperature range

NA

NA

EN54-5

FT:A2S

Refer to annex-Table 1

UL521

Temperature Rating:

At Ordinary

Refer to annex-Table2
MD368SH Detector Specifications
Model:

MD368SHB1、MSD368SHTB3

Sound Level:

85dB/3M

Description:

Optical smoke detector

Heat detector

Sensitivity:

Smoke: EN14604 UL217/268

Heat : EN54-5, UL521

Rating Voltage:

DC 3V, DC 2.6~2.7 Low voltage

Operating Temperature:

-10℃~50℃

Standby Current:

25uA

Operating Humidity:

5%~90%

Start Current:

5mA

Heat Alarm Temperature:

FT

Alarm Current:

60mA(max)

Dimensions:

120 X 52.45 mm

Sensitivity Specifications

Smoke Sensitivity range

Heat Temperature range

EN14604 0.105dB/m~0.165dB/m

UL217/268

1.8%/ft~3.5%/ft

EN54-5

FT:A2S

Refer to annex-Table 1

UL521

Temperature Rating:

At Ordinary

Refer to annex-Table2