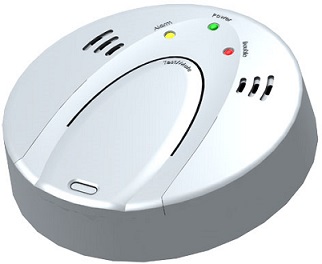 Carbon Monoxide is the most toxic substance people can come INTO contact with in their daily lives: at home, at work, garage, car, caravan or boat. You can't see or smell carbon monoxide, but at high levels it can poison a person in minutes. Carbon monoxide (CO) is produced whenever any fuel such as gas, oil, kerosene, wood, or charcoal is burned. If appliances that burn fuel are maintained and used properly, the amount of CO produced is usually not hazardous. However, if appliances are not working properly or are used incorrectly, dangerous levels of CO can result. Hundreds of people die accidentally every year from CO poisoning caused by malfunctioning or improperly used fuel-burning appliances. Even more die from CO produced by idling cars. Fetuses, infants, elderly people, and people with anemia or with a history of heart or respiratory disease can be especially susceptible.
Everday-engineered M330 series detectors are a new solution for advanced Carbon Monoxide (CO) detection in households and businesses. This model has compact, yet spacious and stylish housing to also fit various wireless solutions (RF). The performance of M330 series is enhanced by Japanese-made Nemoto electrochemical CO sensor. M330 series is 4.5V battery powered. Designed for residential and professional use.

Be safe. Get the Everday Carbon Monoxide Safeguard - M330 detector!

Approvals

UL2034, UL2075,CPR/EN50291-1:2010.

The Range
| | |
| --- | --- |
| M330 series | Equipped with 3 AA batteries. Electrochemical CO detector for residential and professional use |
Features and Benefits
Advanced detection of CO gas in the premises

Durable electrochemical CO sensor by Nemoto provides industrial standard quality, accuracy and stability

Built-in microprocessor for circuit control and CO gas monitoring to assure performance stability and reliability

Works with any building automation system or other control device

Built-in 85 dB/3m local sounder and flashing red LED light will indicate presence of CO gas

Manual test button helps to verify battery status and alarm operation

Automatic self-test

Fully supervised for low battery and malfunction

Easy install, move and maintain

Five-year limited warranty

Transceiver for Wireless two way communication applications
Specification:

M330: 4.5V 3xAA battery
Alarm Indicator: LED continuously emitting red light
CO sensitivity meets BS 7860 or UL 2034
Humidity: 0 to 95% RH, noncondensing
Dimensions 12.5 cm (dia) x 3.5cm (ht) with base